<![if !vml]>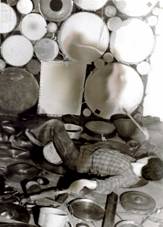 <![endif]><![if !vml]>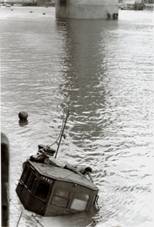 <![endif]><![if !vml]>
<![endif]>
ANNE BEAN & PAUL BURWELL PULP MUSIC "Low Flying Aircraft"
(7", Poutre Apparente, PAPE-002, 2007)
<![if !vml]>

<![endif]> 
"Pulp: 'Low Flying Aircraft' is what happens when avant-garde meets punk on neutral ground, a wonderfully delirious disaster area. I love it" New Musical Express 1979
"The excellent 'Low Flying Aircraft' – a single whose potency and raw energy gave the punks a run for their money." City Limits 1979
This enigmatic 7", released in 1979, is one of the most startling DIY records from this period: it originally comes in a plain white cover with 'Pulp Music' or 'Pulp' written and two signatures, no label but a white pen numbering and an extra hole burned instead. The music was as rough as you could guess from this strict design: a very "intense mix of manic precise percussions together with vocal yelps, grunts and screams leavened with distortion and feedback".
The so-called Pulp or Pulp Music (in fact the label name, not the band name) was a London based duo composed of the performance artist Anne Bean and the percussionist and instrument-maker Paul Burwell. Anne Bean has presented solo and collaborative projects incorporating visual art, sound, and performance since the beginning of the 70's. Active on the improvised music scene through the 70's, notably in a collaboration with David Toop and poet Bob Cobbing, Paul Burwell was also one of the founding members of the London Musicians Collective.
This duo met several years before the release of this 7" and performed in various places until the beginning of the 80's. One of their last appearances took place in october 82 at the Final Academy which was intended to be a celebration of William Burroughs. During three days, this event featured readings by William Burroughs, Brion Gysin and John Giorno, together with bands like Cabaret Voltaire, Psychic TV, 23 Skidoo … and a remarkable performance from Anne Bean and Paul Burwell as described by Performance Magazine:
 "(...) but Burwell and Bean put an incredible show of pyrotechnics preaching, pounding of drums and proclaiming of 'White mans gotta god complex' by the Last Poets. A sample of the late Steve Cripps 'legacy' of explosives had the battery of the exotic snappers, video and super eighters, minor celebs and their retinues, scampering for cover, as Anne bean raged, stamping her feet in the billowing smoke."
Soon after this event, Anne Bean and Paul Burwell extended their duo with sculptor Richard Wilson, to form the influential and much noticed performance group, BOW GAMELAN ENSEMBLE, which lasted until the beginning of the 90's. Sadly, Paul Burwell died on Sunday 4th February 2007. (listen to mp3 excerpts)
<![if !vml]>
<![endif]><![if !vml]>
<![endif]>
PAUL  BURWELL 1949-2007
The music we are playing is our own

Is of us

Its construction                                 

Its articulation                                   

And its end.

We are doing it |

Because the relationships we set up               

Are tools and bridges to other things.

We are showing it

To the auditors

To allow the relationships

And the exchanges

To include more than

The people playing

****

i am trying - let me succeed

i am travelling to many different lands

i am nowhere - i am faded

cast loose, adrift, leave all behind

no goodbye; no memory

everythings over

i am trying – let me succeed

<![if !vml]><![endif]>

P.B 1976/79

The work I do has no name

No one can be certain of its purpose

Its past changes with its present

Its future changes as its past changes

And through all its presents

There are no wages, no hours,

No holidays                         

No retirements

We are showing it

(Sometimes I can do it faster)

****

he was a traveller

he was a part of the ocean

a home for no one

shifting deeds without landmarks

or fixed points

i am trying - let me succeed

he was on board a little ship                            

i am travelling to many different lands

a collection of different woods

i am nowhere - i am faded

bound together

cast loose, adrift, leave all behind

his clothes were made of sailcloth

heavy and wet
<![if !vml]>

<![endif]>Contact :